Euromillions Millionaire Raffle Winners!
Today a couple from South Staffordshire have claimed their Euromillions Millionaire Raffle winner's cheque after they matched the winning Millionaire Raffle number in last Tuesday's Euromillions draw.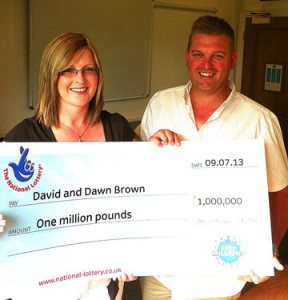 Euromillions Millionaire Raffle winners Dave and Dawn Brown collected their cheque at The Moat House in Acton Trussell, Staffordshire. With two UK Millionaires guaranteed every week it seems Dave and Dawn Brown had luck on their side for Tuesday 9th July's Euromillions draw.
There will be many more winners like the Brown's on Friday 26th July 2013 when the National Lottery holds special Euromillions Millionaire Raffle draw as, on that night, 100 UK Millionaire Raffle winners will be created. Tonight's Euromillions jackpot is £19 million and Euromillions Ticket sales close at 7:30pm with the draw taking place at 8.30pm and results published very shortly afterwards.